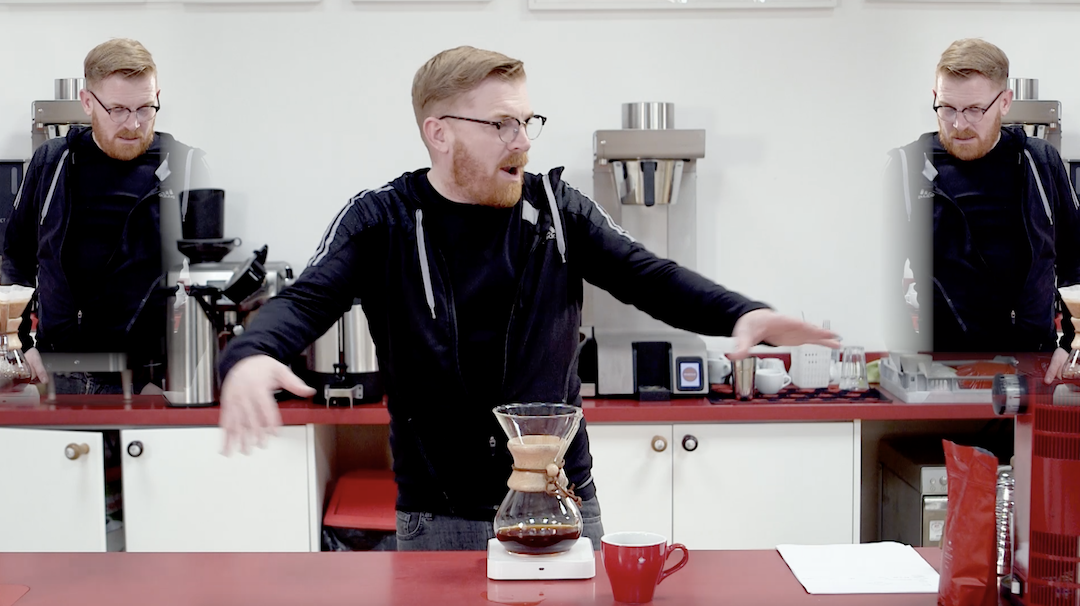 David Vilca's farm is located in Illimani in the Los Yungas region of Bolivia, near to the city of Caranavi. The farm didn't originally actually have an actual name so was named after its producer, it's quite a common thing in Bolivia as farms are often named after an individual or the family running them rather than being given a specific name.
David migrated from La Paz to the farm seventeen years ago after a career in mining left him with damaged hearing and seeking a different course. He bought a twelve-hectare farm as security for himself and his family, to make sure that they could support themselves.
When he took over the farm he only had one acre planted with coffee and it was Criolla, after two years David was comfortable with coffee farming and started to expand what he was doing. He was becoming increasingly interested in the possibilities of what he could accomplish and decided to extend the coffee plantation area - he's now up to a whopping five acres land that produces coffee. He has very little outside help with the farm, except from his direct family and I'd like to give a very special nod to his wife who I know helps him greatly.
The varietals grown on the farm are Typica, Caturra, Catuai and a very small amount of Criolla that's still growing from when David first bought the land. The farm is under constant improvement - David removed much of the Criolla that was originally growing so he could put more focus on the Typica, Caturra and Catuai, for cup quality reasons. This lot is a mixture of all the varietals on the farm, excluding Criolla. Although maybe we'll be able to get some 1 year just for fun, I'll speak to David.
I have a really good relationship with David, and you might remember that a number of years ago we did something a little different with the coffee's price. I've visited a couple of times now but on my first visit to the farm I thought he was being rude to me by ignoring pretty much everything I was saying, or not just responding when I spoke to him. Afterwards, I found out that David's hearing had become damaged whilst he was working as a miner before he made the move into coffee and oh, he wasn't being rude, he just couldn't hear me!
In the past, the exporter had given David some money to get hearing aids to help with exactly that situation, but he spent the money on satellite TV (for his wife – who hasn't been in that situation!). So a couple of years ago we paid for two hearing aids while we were there so that he could hear properly again and enjoy my smooth and soothing Cannock accent #yamyam ;) yamyamyam 🍠
We thought that would be the last we'd hear of it, but when I next visited, David didn't have his hearing aids in. He told us that they were not good while he was picking what to wear, but also that he couldn't afford the batteries. So we left him with cash for a microphone hearing-device for around his neck, and $200 for batteries. This worked out at 7p per bag for all the coffee we buy from him, and I didn't pick up the tab – you lovely people did! So a big THANK YOU from me, and also, of course, from David!
http://www.hasblog.co.uk/the-cost-of-hearing
The farm sits between 1,550 and 1,700 metres above sea level and this coffee is a mechanically washed coffee that underwent full wet fermentation for 16 hours before being dried on raised beds and in a stationary dryer.
In the cup this is a super interesting coffee. It starts out with a dark caramel sweetness with notes of blackcurrant and plum alongside a heavy, gloopy texture. At the same time, there's also a delicate effervescence which pairs with those dark flavours really well and for me, it just screams Cola.
Country: Bolivia
Region: Illimani
Farmer: David Vilca
Altitude: 1,550–1,700 m.a.s.l.
Varietals: Typica, Caturra & Catuai
Ripe cherry colour: Red & yellow
Processing method: Washed
Washing method: Mechanical
Fermentation: Full wet
Fermentation time: 16 hours
Drying method: Raised beds + stationary dryer
Other farm products: Citrus fruits, yuca, banana.
CUPPING NOTES
Cola, dark caramel, blackcurrant, plum.
Clean cup: (1–8): 6
Sweetness: (1–8): 7
Acidity: (1–8): 6
Mouthfeel: (1–8): 7
Flavour: (1–8): 7
Aftertaste: (1–8): 6
Balance: (1–8): 7
Overall: (1–8): 7
Correction:(+36): +36
Total (max. 100): 89
Roast Information
Medium dark - keep this one nice and steady, through first and just up to the cusp of second before you drop the roast.