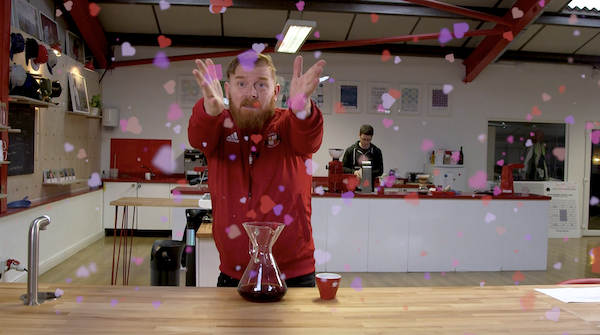 Juan Jose Ernesto 'Neto' Menéndez Argüello belongs to the fourth generation of coffee farmers in his family. His father died in 1995. After completing his studies at university, Neto had the opportunity to start working in the coffee industry at J. Hill & Cia, in 2000. He left J. Hill & Cia after five years and began his second coffee experience at JASAL.
Both companies gave him the opportunity to meet 'Grano de Oro' from another perspective, allowing him to learn the art and passion of cupping. He says those are very important in his life, and that they give him the opportunity to apply his coffee knowledge and experience that he's gained through the years.
During his time in the coffee world, he has participated in various events like the Cup of Excellence (National Jury from 2003 to 2011), Q Auction, Q Grader, and the Star Cupper program organised by SCAA and CQI.
Las Brumas is located between 45 to 60 minutes from Santa Ana city. It has a cultivated area of 60 hectares' worth of coffee yield, all of which is at an altitude ranging from 1,450 to 1,700 m.a.s.l. It produces around 600 bags of coffee each year, and has an area of 35 hectares of virgin mountain at an altitude from 1,700 to 2,000 m.a.s.l.
The farm is located in the Sonsonate department near the area known as San Blas. Las Brumas has very rich volcanic soil, deep and very fertile, which has been generated by different Ilamatepec and Izalco volcanic eruptions throughout its history.
One of the most important elements is the microclimate. It's very misty at the farm for most of the year, and that's why Neto decided to name the farm Finca Las Brumas. This amazing micro climate is generated when the warm air from the Pacific ocean collides with the high peaks of the Volcanoes Park (which comprises of the Santa Ana, Cerro Verde and Izalco volcanoes).
Due to its location between these three famous volcanoes in El Salvador, this unique microclimate reduces the amount of daylight that the coffee trees receive. This helps the coffee trees have a very slow photosynthesis, improving the maturation process, and this, in turn, improves some attributes that are closely related to maturity, like the aroma, sweetness, acidity and flavour. 
Sultana and lemon both jump out from this cup, but with a drizzle of a dark caramel coming through and adding an extra complexity to the fruit sweetness. As it fades, there's a hit of dark chocolate which lingers into the aftertaste.
Country: El Salvador
Department: Sonsonate
Nearest city: Santa Ana
Farm: Finca Las Brumas
Producer: Juan Jose Ernesto 'Neto' Menéndez Argüello
Varietal: SL28
Processing system: Washed
Altitude: 1,450–1,700 m.a.s.l.
Type of soil: Sandy loam
Average rainfall: 2,400mm
Types of shade: Ingas, sunk, cipers and belloto
Flora and fauna present: Mountain trees, wildflowers, deer, squirrels, armadillos, snakes
CUPPING NOTES
Sultana, lemon, dark caramel, dark chocolate
Clean cup: (1–8): 6.5
Sweetness: (1–8): 6
Acidity: (1–8): 6.5
Mouthfeel: (1–8): 6
Flavour: (1–8): 7
Aftertaste: (1–8): 6.5
Balance: (1–8): 6.5
Overall: (1–8): 7
Correction:(+36): +36
Total: (max. 100): 88
Roasting Information
Medium-dark - get this through the gap between cracks and slow it down a little, you're looking to catch the very early edge of 2nd as the roast drops out of the roaster.